Seasoned veteran or first time hunter L&C Hunts Outfitter and Guide Service can help with your hunt. We offer elk, deer, oryx, and turkey hunts on public and private land.
Our goal is to give you a white-collar hunt at a blue-collar price.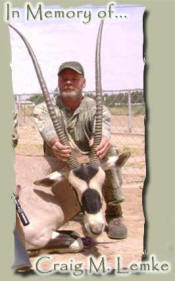 The southern Sacramento Mountains just above Alamogordo, New Mexico provide an opportunity to hunt trophy class animals without the rigors required of a wilderness camp. The Sacramento mountains range in elevation from 6,500 to over 9,500 feet. The terrain consists of meadows; canyons and timbered ridges of pines, aspens, oaks and old burns. Unit 34 borders the southern end of the renowned Mescalero Apache Indian Reservation.
The terrain is mountainous, yet more forgiving than a wilderness hunt. Physical conditioning still has an important role in being able to come to this area and successfully hunt elk. Hunters who can cover ground on foot will fare much better than those who can't.
The hunts are conducted out of a comfortable cabin located in the middle of the best elk country. In the evening you can watch TV, check your e-mail, or just enjoy the hot fire. The hunts are guided either on a two on one or a one on one basis. These hunts include all meals. Just bring your clothes and weapon. Hunts are limited to no more than four hunters to ensure personalized service to everyone.
----------------------------------------------------------------------------------